Wool Roving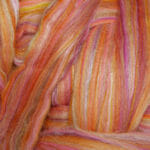 A combination of dyed merino wool tops (70%) and extra bleached tussah silk (30%) to create a rainbow blend with a silky sheen. Perfect for hand felting, hand spinning and many other craft uses.
100 gram packages of super fine Merino wool roving, each package contains five complementary colours.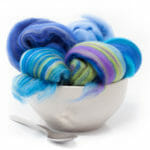 Luxurious roving made from super soft 19 micro merino fibres, dyed in eye-catching variegated colours.